As a mutual savings bank, we have always believed in helping others in our communities. In addition to our charitable foundation, our #Giving for Good program highlights Bank's volunteerism as well as our non-profit partners that help so many in our communities.
Every Bank employee is given 10 paid hours each year to volunteer in our communities for causes that are near and dear to them. In addition, "green teams" of Bank employees go out into the community every month  to 'pay it forward' by bringing snacks to senior centers, delivering lunch to first responders, purchasing supplies for local schools and shelters, and more.
Meet this month's #Giving for Good Hero!

Community Service of Newburyport (CSN) is a local non-profit organization that for many years has quietly provided a plethora of important services for local residents. A privately funded social service agency established in 1912, CSN serves children, individuals and families from Newburyport, Newbury and West Newbury. Its mission is to improve the quality of life for individuals in need by providing economic assistance in a caring environment.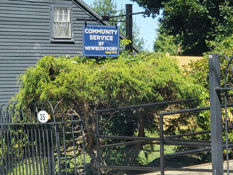 In 2018 CSN relocated to a new, expanded location in the annex of St. Paul's Church on Summer Street. The new facility was made possible by donations from the Institution for Savings, along with the Provident and Newburyport Banks, and SPS New England's Wayne Capolupo.
CSN provides many critical resources to those in need including: diapers, personal care products, pet food, clothing, blankets, towels and sheets. It also provides transportation vouchers, utility assistance; and heating and medical bill assistance. A photo ID and proof of address are required to sign up for services. Every Thursday CSN also hosts Our Neighbors' Table's Mobile Market of both fresh and non-perishable food. The Market is open from 11:00 am to 2:00 pm.

Special programs are also offered throughout the year:


GIFT BAGS FOR CHILDREN & SENIORS. During the holiday season, CSN collaborates with local businesses, civic clubs, schools and businesses to fill gift bags for children and seniors. Sign up for the gift bags takes place from October 15 through November 30.
TREES FOR CHRISTMAS. Vouchers are available for Christmas trees which are provided by Christmas Tree Santas of Newburyport. Sign up for vouchers is in October and November, and trees are available for pick up the first Saturday in December.
CAMP SCHOLARSHIPS. Vouchers for two weeks of summer camp are available to eligible children from Newburyport, Newbury and West Newbury. Sign up begins in the Spring.
Making It Personal! Donations of personal care items will allow CSN to increase the number of essential products provided to residents from Newburyport, Newbury and West Newbury. The most needed items are: toilet paper, paper towels, toothpaste, toothbrushes, shampoo, conditioner, razors, shaving cream, deodorant, band-aids, incontinence products (men and women), laundry detergent, dish detergent, and cleaning supplies.

---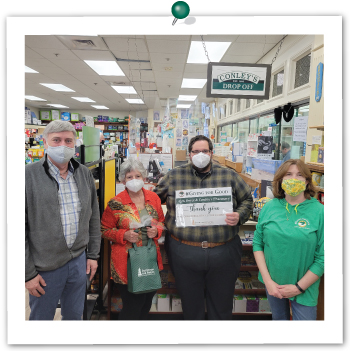 Also in March, employees of our Ipswich team surprised community hero Alex Doyle of Conley's Pharmacy with a gift card to the Hart House in appreciation for his tireless efforts coordinating COVID-19 testing and vaccination sites within multiple towns in our area.