As a mutual savings bank, we have always believed in helping others in our communities. In addition to our charitable foundation, our #Giving for Good program highlights Bank's volunteerism as well as our non-profit partners that help so many in our communities.
Every Bank employee is given 10 paid hours each year to volunteer in our communities for causes that are near and dear to them. In addition, "green teams" of Bank employees go out into the community every month  to 'pay it forward' by bringing snacks to senior centers, delivering lunch to first responders, purchasing supplies for local schools and shelters, and more.
Check out
this short video
highlighting #Giving for Good and our generous charitable giving!
Meet this month's #Giving for Good Hero!

The Boys & Girls Club of Lower Merrimack Valley provides important resources for the youth in our communities and has become a critical resource for local families, providing a safe, affordable and nourishing 'home away from home' for children and teens.  Its mission is to inspire and enable all young people, especially those who need it the most, to realize their full potential as productive, responsible and caring citizens.
The Club promotes the social, educational, health, leadership, and character development of boys and girls during critical periods of their growth and does so in a big way. They have become the largest youth serving organization in the Lower Merrimack Valley with over 3,000 members serving Amesbury, Merrimac, Newbury, Newburyport, Rowley, Salisbury, West Newbury, Seabrook, N.H. and Hampton, N.H. The Club offers programs in five core program areas; arts; health and life skills; character and leadership development; education and career development; and sports, fitness and recreation.
The Institution for Savings has been a long-time supporter of and partner with the Club, most recently donating $100,000 to its capital campaign. Volunteers and assistance are always welcome!  For more information, visit their website:  bgclmv.org, call 978-462-7003 or email Kathy Webber at kwebber@bgclmv.org.
---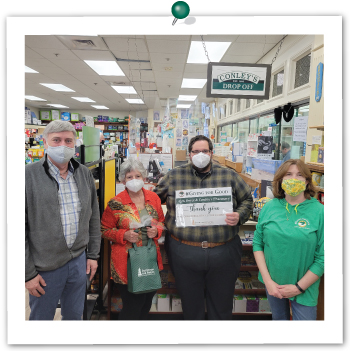 Also in March, employees of our Ipswich team surprised community hero Alex Doyle of Conley's Pharmacy with a gift card to the Hart House in appreciation for his tireless efforts coordinating COVID-19 testing and vaccination sites within multiple towns in our area.