Media contact:

978-225-1324
IFS Donated and Pledged More than $500,000 in Q2 2023
The Institution for Savings, through its Charitable Foundation, awarded and pledged over $500,000 in the second quarter of 2023, announced President and Chief Executive Officer Michael J. Jones.
The largest grants included two $100,000 payments to the Ipswich YMCA and North Shore YMCA as part of multiyear pledges for the Ipswich Aquatic Center and new Cape Ann YMCA building respectively. The Bank also granted $30,000 to Our Neighbors Table for grocery support and event sponsorships; $30,000 to the Jeanne Geiger Crisis Center for sponsorship and programs; and $20,000 to The Salem Pantry for its Market and food programs. Grants of $15,000 were given to the YMCA of Greater Newburyport for its VEGOUT program and the Newburyport Lions Club for its annual Yankee Homecoming Road Race sponsorship. Grants of $10,000 each went to Action, Inc., Beverly Bootstraps, and Ipswich Education Foundation.
"One of the greatest impacts we have as a mutual bank is to share our success with non-profit organizations in the communities that are responsible for that success," said Mr. Jones. "We are pleased to be able to provide this much-needed financial support to those organizations that truly make a difference in our communities every day."
Other non-profit organizations who received a second quarter grant from the Bank are as follows: Amesbury Carriage Museum Inc.; Amesbury Days; Amesbury Public Schools; Anchor of Hope Diaper Bank, Inc.; Assumption of the Virgin Mary; Backyard Growers, Inc.; Beverly Children's Learning Center; Beverly Council on Aging; Beverly Historical Society Inc.; Beverly Homecoming Inc.; Beverly Main Streets; Boys & Girls Clubs of Merrimack Valley; Boys and Girls Club of Greater Salem; Bread & Roses Housing, Inc.; Care Dimensions; Community Action Inc.; Essex County Trail Association; Essex Parent Teacher Organization Incorporated.; Family Services of the Merrimack Valley; Friends of Buker Elementary School; Friends of Veasey Park Inc.; Generous Gardeners; Greater Newburyport Ovarian Cancer Awareness; Greater Newburyport Village Inc.; Groveland Fire Fighters Association; Habitat for Humanity; Hamilton Wenham Friends of the Arts; Ipswich River Watershed Association; Ipswich YMCA Outdoor Aquatic Center; James L. Melvin Post 379 American Legion; Jewish Alliance for Law and Social Action Inc.; John Ashford Link House Inc.; and Lazarus House Ministries Inc.
Also: Leap for Education Inc.; Lowell's Boat Shop and Museum; Lucy's Love Bus Charitable Trust Inc.; Manchester Summer Chamber Music Ltd.; Merrimack Valley Concert Band, Inc.; Merrimack Valley YMCA; Music for Music; New England Exchange Clubs Foundation; Newburyport Film Festival , Inc.; Newburyport Literary Association Inc.; North Beverly Elementary School PTO; Northeast Arc Inc.; Northeast Independent Living Program Inc.; Pentucket Activities Association Inc.; Pine Grove School PTA; Rockport Fireman's Association; Rockport High School; Rockport Illumination Fund Inc.; Root North Shore Inc.; Runway for Recovery; Salem Pantry Inc.; Salem Pantry Inc.; Salem Pantry Inc.; Salisbury Historical Society; SCORE - Northeast Mass Chapter 411; Self Esteem Boston Educational Institute, Inc.; Supportive Living, Inc.; Talia Duff Foundation Inc.; Thatcher Island Association; The Arc of Greater Haverhill-Newburyport; The Children's Center for Communication; The Open Door; Three Sisters Garden Project; Topsfield Athletic Association; Topsfield Police K9 Foundation Inc.; Topsfield Public Schools; Triton Boosters Club Inc.; and Winners Circle Running Club.
Mark Zink to Lead Bank's Commercial Lending Team
July 2023
Senior Vice President of Commercial Lending Mark Zink has been promoted to Senior Lender and will lead the Institution for Savings' commercial lending team, announced president and CEO Michael J. Jones. He succeeds former SVP and Senior Lender David Boudreau who retired in June.
Mark joined the Bank as vice president in June of 2020 and was promoted to senior vice president in January 2022.  Previously, he was vice president of commercial lending at Melrose Bank for five years and Radius Bank for seven years.  
"Since joining the Bank three years ago Mark has been an integral part of the Bank's team, always ready to help our clients and his fellow team members," said Mr. Jones.  "His professionalism and commitment to helping his customers is a great asset to our very busy commercial lending department. Additionally, Mark's keen knowledge of the commercial lending environment on the North Shore and beyond is invaluable to the continued growth and expansion of our commercial lending portfolio."
Mark earned a BA degree from Western New England University and an MBA from Northeastern University.  In his free time, he volunteers at Lazarus House in Lawrence, is a board member of the Horizon Club in Newburyport and is on the finance committee for Citizen's Inn in Peabody.
Mark is based in the Bank's Commercial Lending Center located at 312 Haverhill Street in Rowley. He can be reached at 978-225-1352.
Bank Donates and Pledges Nearly $400,000 in Q1 2023
April 2023
The Institution for Savings, through its Charitable Foundation, awarded and pledged $394,250 in the first quarter of 2023, announced President and Chief Executive Officer Michael J. Jones recently.

The largest grants last quarter included $25,000 gifts to Anna Jaques Hospital and North Shore YMCA to support mental health and other wellness initiatives as well as various events. The Bank also donated $20,000 to the Newburyport Education Foundation to support the Newburyport High School Investment Club and other events; $10,000 to the Amesbury Education Foundation to support its Hall of Honor; and $10,000 to Wellspring House to sponsor its 'History Lives Here' event.

"Supporting individuals and non-profits in need within our communities has been a cornerstone of our vision for more than 200 years," said Mr. Jones. "As the economy continues to challenge so many, we will do everything we can to support our local non-profits who support those in our communities who need it most."
Additional donations and pledges were made to the following non-profit organizations in the first quarter of 2023: 1st Lieutenant Derek Hines Soldiers Assistance Fund; Addison Gilbert Hospital Citizens Fund; Alzheimer's Disease and Related Disorders; Amesbury High School; Amesbury Improvement Association; Beverly High School; Building a Better Beverly Inc; Byfield-Newbury Baseball Softball; Cantemus Chamber Chorus; Colleen Ritzer Memorial Fund; Educational Foundation for Rockport; Essex County Community Foundation Incorporated; Essex County Trail Association Inc; Essex National Heritage Commission; FRAXA Research Foundation, Friends of Ipswich Elementary Schools; Friends of the Ipswich Elderly, Friends of the Topsfield library; Gloucester Fishermen Athletic Association; Gloucester High School; Gloucester Pride Stride Committee; Green Beverly 107Q; Hamilton-Wenham Regional School District Education Fund; Hamilton-Wenham Regional School District Education Fund; and Hamilton Regional High School.


Also, Harborlight Community Partners; Harry Lee Cole Elementary School; Healing Abuse Working for Change; Horizons for Homeless Children; Ipswich High School; LEAP for Education; Mental Makeover; Merrimack River Feline Rescue Society; Merrohawke Nature School; Montserrat College of Art; My Brothers Table; Newburyport Chamber Music Festival; Newburyport Choral Society; Newburyport Elementary School PTO; Newburyport High School; Newburyport Maritime Society; North Shore Concert Band; On Stage Inc.; Opportunity Works; Plummer Youth Promise; Our Neighbor's Table; PTA Massachusetts Parent-Teacher Association; Pentucket Regional School District Parent Alliance Inc.; Rockport Middle School; Rockport High School; Rockport Garden Club; Rotary Club of Gloucester Foundation; Salem High School; Science from Scientists Inc.; SeniorCare Inc.; St. Peter's Fiesta; The Community House; The Ellie Fund; The Gloucester Adventure; The Hammond Museum; Topsfield Public Schools; Topsfield Public Schools; Town of Salisbury Parks & Recreation; Travis Eliot Landreth Memorial Scholarship Fund Inc.; Triton Regional High School; Tri-town Council on Youth and Family Services, Inc.; VNA Care Network; and YWCA of Newburyport.
IFS Posts Record Earnings in 2022
March 2023
The annual meeting of the IFS 1820 Bancorp, Mutual Holding Company of Institution Savings was held March 13th at the Black Swan Country Club, attended by more than 250 corporators and Bank employees.
President and CEO Michael J. Jones welcomed the attendees and reported that the Bank attained record net operating earnings of $40.7 million in 2022, an increase of $5.1 million or 14% over 2021.  Total assets in 2022 reached $4.869 billion, an increase of $334 million or 7 percent.  Total loans reached $3.7 billion, representing record growth of $491 million or 15 percent. Total deposits increased $126 million or 4 percent reaching $3.6 billion.  Total capital ended the year at $528 million and remains strong at 11 percent, providing opportunities for future growth and expansion.
During the business meeting Mr. Jones addressed the recent national headlines regarding bank failures, and reiterated that the Institution for Savings is strong, stable and well-positioned due to its robust capital position, prudent loan underwriting and responsible business model.  Customer deposits are insured up to $250,000 by the Federal Deposit Insurance Corporation (FDIC); funds that exceed FDIC limits are insured by the Depositors Insurance Fund (DIF). The Bank has posted a letter on its website with a similar message to its customers.
Mr. Jones also reported on a number of milestones achieved in 2022:
Ranked 17th nationally by American Banker in its annual ranking of banks with assets $2 to $10 billion (based on 12/31/21 results)
Named to the Boston Globe Top Places to Work for the 15th consecutive year
Named to Boston Business Journal's Best Places to Work for the 7th consecutive year and one of Massachusetts' largest corporate charitable contributors
Named Best Bank by The Newburyport Daily News for the 14th consecutive year
Named Best Bank by The Salem News for the fourth consecutive year
Completed the rear wing renovations at its Newburyport Main office
Through its Institution for savings Charitable Foundation donated more than $2.3 million to local non-profit organizations.
During the meeting, the corporation elected one new Trustee to join the board: Kerri S. Perry. Ms. Perry, a Newbury resident, is currently President and CEO of Community Action, Inc. a multi-service non-profit organization serving low-income individuals and families in eleven cities and towns in the Merrimack Valley and seacoast regions.
Three new corporators were also elected during the meeting.  They include Robyn Burns, executive director of the Salem Food Pantry and a Salem resident; Angelo Perrina, a Middleton resident and co-founder of Nutre Meal Plans LLC; and Sarah Player, a physical therapist and vice chair of the Ipswich Board of Selectmen who resides in Ipswich.
Also, during the meeting, Mr. Jones recognized two long-time Institution for Savings officers who are retiring in the coming months:  Senior Vice President of Residential Lending Larry Hunter who retires this week; and Senior Lender/Senior Vice President of Commercial Lending David Boudreau who will retire July 1st.
Before concluding the meeting, Mr. Jones announced the recipient of this year's President's Award, given annually to an employee who consistently goes above and beyond his or her duties to serve the Bank and its customers.   This year's award was given to Information Technology Help Desk Technician Richard Denaro who, according to Mr. Jones, was nominated by several individuals for his caring, friendly attitude as well as consistently making the extra effort to help colleagues.
In addition to the Bank's 68-page annual report, all guests received gourmet chocolates from M cacao of Amesbury, with a special video about the Bank embedded into the box.  Chocolate video boxes made by m cacao were also the featured gift at the 65th annual Grammy Awards gift lounge earlier this year.
IFS Recognized as a Boston Globe Top Place to Work for 15th Straight Year
November 2022
For the fifteenth straight year the Institution for Savings has been named one of the Top Places to Work in Massachusetts in the annual employee-based survey conducted by The Boston Globe. The Bank ranked thirteenth overall, up from number 18 in 2021, and is one of only two of the 150 companies ranked that has made the list every year.
Top Places to Work recognizes the most admired workplaces in the state and is voted on by the people who know them best—their employees. More than 380 companies and 94,000 employees participated this year, with 150 chosen. The survey measures employee opinions about their company's direction, execution, connection, management, work, pay and benefits, and engagement. The employers are placed into one of four groups: small, with 50 to 99 employees; medium, with 100 to 249 workers; large, with 250 to 999; and largest, with 1,000 or more. The Institution for Savings is in the Medium category with approximately 180 employees.

"What makes this honor so gratifying is that it is based on the confidential feedback from our very own employees," said Institution for Savings president and CEO Michael J. Jones. "To be one of only two Massachusetts companies to have consistently made the list for 15 straight years -- at a time when workplaces are adjusting to meet the needs of a changing workforce -- makes this all the more special to us. Our employees are our greatest asset, and I am truly grateful to lead such a dedicated team."

Mr. Jones said that making the list each year often gives the Bank an advantage when looking to hire and retain employees. "We have had new hires in the past tell us that being recognized as a top place to work made a difference to them when job-searching," he said. "Particularly now, with so many businesses trying to fill open positions employees can be more selective about the type of company they choose to work for. I believe our reputation for having generous benefits along with a positive, family-friendly work environment gives us a leg up over other companies looking to hire."

""We are undergoing a work revolution, and the companies that are truly responding to their employees' needs, that are putting their people first, are the ones leading the charge," said Katie Johnson, The Boston Globe's Top Places to Work list editor.
The Top Places to Work 2022 issue can be found
online
and was published in the Boston Globe Sunday Globe Magazine on December 4th.
Citizens Inn Receives $400K donation from Institution for Savings
Reprinted from Salem News, May 15, 2022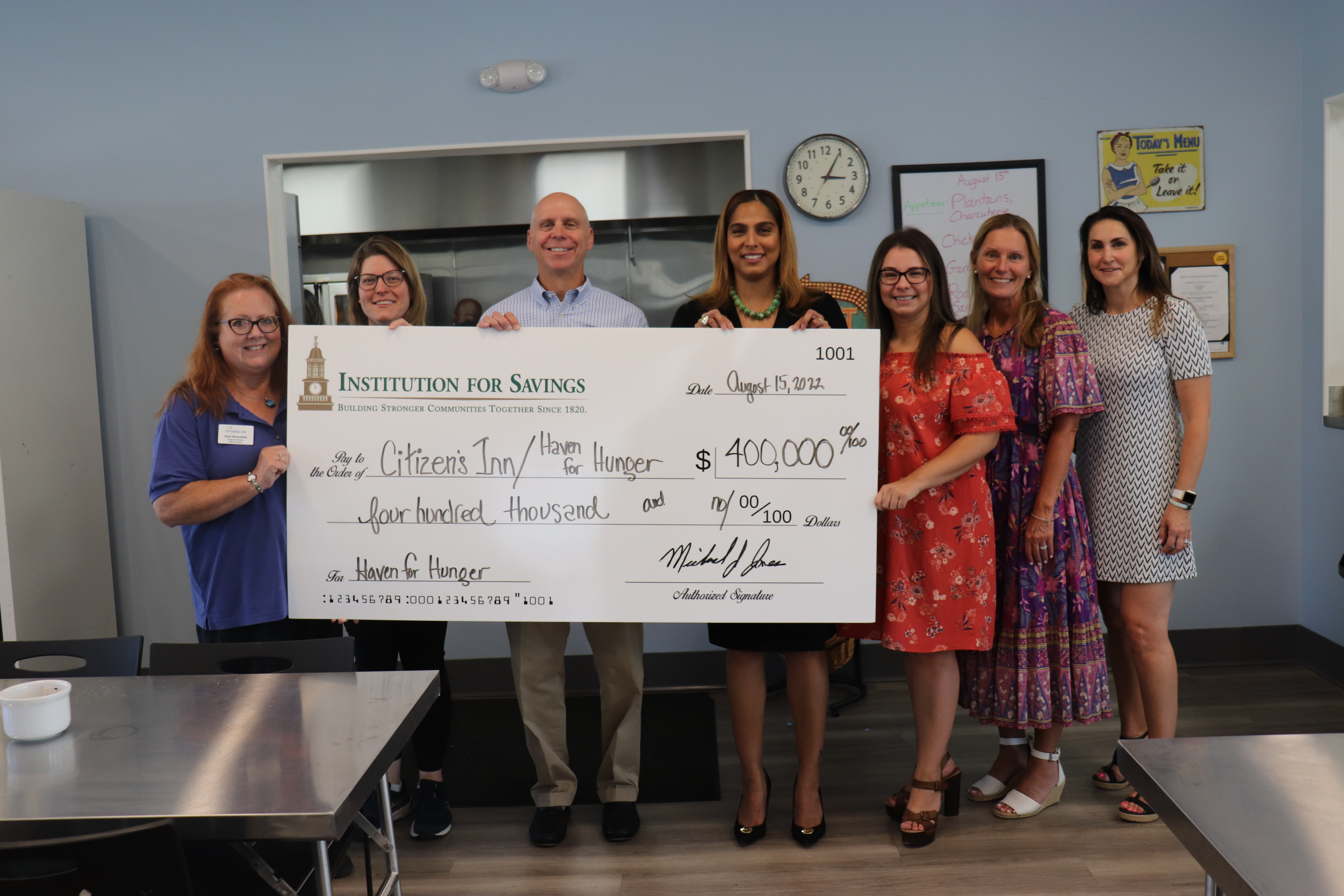 PEABODY — The Institution for Savings is donating $400,000 to Citizens Inn in Peabody this month.
The donation will fund programming and operational costs for the nonprofit's Haven from Hunger program. This includes supporting the food pantry, resource center and community meals that many locals rely on.
"This funding is so important because the community continues to have needs, and we are responding to these needs pretty quickly," said Carolina Trujillo, executive director for Citizens Inn.
The organization has gone from serving 600 households at the start of the pandemic to 1,100 households this year. The new resource center will allow Citizens Inn to assist more people, Trujillo said.
It will have a variety of services available to both Citizens Inn clients and the public, including financial literacy programs and grief counseling.
"It's very community centric," Trujillo said. "We want to make sure that we're responding to the needs of the community, not necessarily to whatever we think the community needs."
The Institution for Savings will hold the naming rights to the Haven from Hunger kitchen, pantry and resource center at 71 Wallis St. for the next 25 years ,thanks to its donation.
The bank will become a larger part of the community when it opens a new branch in Peabody Square next year, Institution for Savings President and CEO Michael J. Jones said in a statement.
"The work that Citizens Inn does every day to help families and individuals who are experiencing a housing crisis or food insecurity is admirable and we are happy we can help continue this important mission," Jones said in the statement. "Haven from Hunger provides much needed food assistance to those in need through its food pantry and community meals programs and is a critical service for residents in Peabody and the surrounding communities."
The donation will count toward Citizens Inn's $7.4 million comprehensive campaign to enhance the nonprofit's spaces and services.
Along with supporting special programs and renovations to the Wallis Street pantry, which were officially unveiled last month, the fundraising drive will renovate four units at the Inn-Between shelter on Holten Street and add a playground there.
The Institution for Savings will present a check to Citizens Inn at the nonprofit's Wallis Street location at 3 p.m. Monday
Bank Donates $1 Million to Gloucester's Sawyer Free Library
Reprinted from Gloucester Times, June 22, 2022
By Ethan Forman | Staff Writer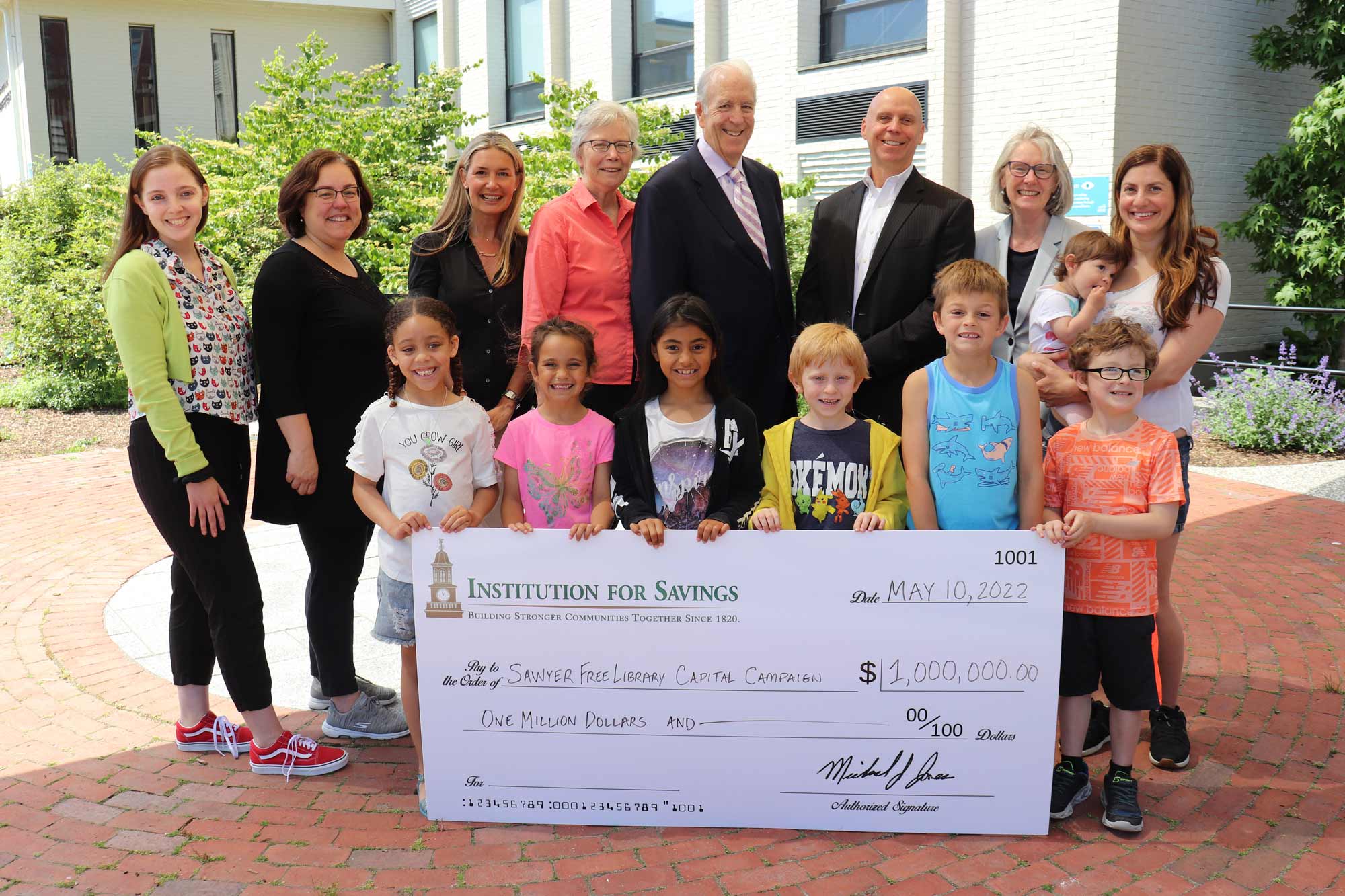 Newburyport-based Institution for Savings has made a charitable donation of $1 million to Sawyer Free 2025, the philanthropic capital campaign for the renovation, modernization and expansion of Sawyer Free Library on Dale Avenue.

The Institution for Savings' donation represents the largest single corporate gift to the Sawyer Free 2025 campaign to date.

"This is such an important project for the city of Gloucester, the residents, the schools and the many non-profit organizations who have partnerships with the library," said Institution for Savings President and CEO Michael Jones, in a prepared statement.

"This project, when completed," Jones said, "will establish the library as a state-of-the-art hub for innovation, history, learning, arts and culture — right in the heart of Gloucester. We are thrilled and honored to partner with the Sawyer Library Foundation on this initiative and we graciously challenge others in the community to step up and help make this vital project a reality for the people of Gloucester."

Word of this donation follows announcements of support for the library renovation and expansion project in recent weeks, including BankGloucester's donation of $250,000 to the capital campaign, and MassDevelopment and the Massachusetts Cultural Council's grant of $200,000 to Sawyer Free 2025, one of 94 capital grants from the organizations' fiscal year Cultural Facilities Fund.

The Sawyer Free 2025 project's total cost is $28 million, a sum which factors in inflation costs through completion in 2025. The Sawyer Library Foundation, the campaign's fundraising arm, has already attracted more than $14.3 million in pledged donations and grant awards. A provisional award of $9.3 million from the Massachusetts Board of Library Commissioners accounts for just over a third of the project's cost.

The project will preserve the original exterior of the library's existing main building, which will house a fully redesigned interior, and will double the size of the library's footprint with a 15,000-square foot addition.
The new facility will feature a sound studio, a film studio, a digital tech lab and a 110-seat community meeting space. It's expected the addition will result in a 25% increase in annual visitors, a 25% increase in the number of public programs offered each month by the library and a 50% increase in the number of programs hosted at the library by its many partner agencies.

"The Institution for Savings' goal of raising standards of living and advancing quality of life in the communities it serves is clearly evidenced by this astounding show of generosity," said Barry Weiner, a retired attorney and the campaign chair for Sawyer Free 2025. "The bank's commitment to exemplary corporate citizenship and social-mindedness is a powerful endorsement of our vision to fund this once-in-a-lifetime investment in a vital community resource. By giving back so unsparingly to the people who live here and by supporting growth for generations to come, the Institution for Savings has provided a huge tailwind for this philanthropic campaign. We urge our fellow citizens of Gloucester as well as residents across Cape Ann to be guided by this show of support and rise to this occasion with donations both big and small."

Dating to 1820, the Institution for Savings is the largest mutual savings bank in Massachusetts. On Cape Ann, it has branches at 4 Parker St. in Gloucester, and 37 King St. in Rockport. The donation was made possible by the Institution for Savings Charitable Foundation.
Bank Posts Record Earnings for 2021; Reaffirms Mutuality and Positions Itself for Future Growth
March 2022
Institution for Savings Corporators and employees gathered in person and via Zoom last evening to mark the Bank's 202nd annual meeting and another record-setting financial year. The meeting was held at the Black Swan Country Club in Georgetown as well as via Zoom, with over 250 corporators and employees attending.
President and CEO Michael J. Jones reported that the Bank's total assets in 2021 reached $4.5 billion, increasing by $570 million or 14 percent over 2020 and fueled primarily by growth in the Bank's loan and investment portfolios. Total loans increased $439 million or 16 percent reaching $3.2 billion. Total deposits increased $416 million or 14 percent reaching $3.5 billion.

The Bank reported record net income of $102 million. Record net operating income of $35.5 million represents a $9.8 million increase or 38 percent increase over 2020. Total capital increased $100 million or 22 percent and remains strong at $556 million, providing opportunities for future growth and expansion. Strong earnings resulted in a return on average assets of 2.40 percent which once again places the Institution for Savings at the top of Massachusetts banks.

Mr. Jones also reported on a number of other milestones achieved in 2021.
The Institution for Savings Charitable Foundation donated and pledged more than $2 million to local non-profit organizations in its market.
The Bank purchased the former Century Bank location at 12 Peabody Square, Peabody with plans to open a full-service retail and lending office by the end of 2022.
The Bank purchased a commercial building at 79 State Street, Newburyport with plans to move its call center and retail operations there by the fourth quarter of 2022.
Restoration and renovations were completed to the Bank's main office built in 1870, with renovations to the rear wing of the main office built in 1980 currently underway.
The Bank was again named a Top Charitable Contributor and Best Place to Work by the Boston Business Journal as well as a Top Place to Work for the fourteenth straight year by the Boston Globe.
During the meeting Corporators approved several bylaw changes. The first was to increase the number of corporator votes needed to change the Bank's mutuality charter, name and/or headquarters. The second was to approve the formation of the IFS 1820 Bancorp Mutual Holding Company (MHC) that would position the Bank to grow and acquire other community banks in the future.
"This change in structure will put us on a level playing field with our local competitors and banks in our asset class while maintaining our independence and mutuality," said Mr. Jones in proposing the change. "Of the 76 mutual banks in Massachusetts, approximately 60% have a mutual holding company and we are by far the largest mutual bank in Massachusetts that does not have one. Equally important, this new structure will be seamless to our loyal customer base, our steadfast commitment to the communities we serve will not change and our talented team of employees will have additional opportunities for promotions as the Bank continues to grow."

During the meeting, three new corporators were elected. They include Shelley DeSimone, Chief Human Resources officer at AgeSpan in Lawrence and a Newbury resident; Scott Faulkner, Principal at Groom Construction in Salem and a Swampscott resident; and Hannah Greenough-Linke, Attorney with Glovsky & Glovsky in Beverly and an Ipswich resident.

Additionally, Mr. Jones paid tribute to recently retired trustees Stuart Winfrey and David Tibbetts. Mr. Winfrey, co-owner of Winfrey's Chocolates, a North Shore confectionary institution, joined the Board of Trustees in 2015 as the Bank had just recently expanded to new markets that included Cape Ann and Beverly. Over the last seven years, Stu's business insight coupled with his outgoing personality and familiarity with the communities the Bank serves have enhanced the Bank's 'sweet recipe for success.', according to Mr Jones. While on the board, Stu served on the ALCO and Building Committees as well as a rotating member of the Executive Committee.

"If there is one trustee who has had a front-row seat to the Institution for Savings' growth and expansion over the last two decades, it is David Tibbetts," said Mr. Jones. "When he was elected to the Board of Trustees in 2003, the Bank had two offices, both located in Newburyport, and total assets of $450 million. When he retired from the Board in August 2021 the Institution for Savings had grown to 15 offices in 13 communities with assets of more than $4.3 billion."

Mr. Tibbetts' guidance, commitment and fierce loyalty to the Institution for Savings during his 18 years as a trustee were critical to the success and growth of the Bank, according to Mr. Jones. His background and experience as an attorney, public official, community leader and economic development policymaker were instrumental as the Bank expanded into new communities. Over his years as trustee, David served in key roles, serving on the Long-Range Strategic Planning Committee, Nominating Committee and as a rotating member of the Executive Committee. His wit could always bring a laugh no matter what the circumstances.
Mr. Tibbetts' generosity has always extended to organizations near and dear to his large heart, including Anna Jaques Hospital, Newburyport Downtown Enhancement Team and the Firehouse Center for the Arts where he remains an active board member.

Before concluding the meeting, Mr. Jones announced the recipient of the President's Award, annually given to an employee who consistently goes above and beyond his or her duties to serve the Bank and its customers. This year's award was given to Shelly Gauthier, deposit services representative. Mr. Jones described Ms. Gauthier as a powerhouse, bright in her intelligence and personality, and a team player who consistently goes above and beyond to assist customers and fellow employees alike, always with a smile and kind word.