Media contact:

978-225-1324
By Ethan Forman | Staff Writer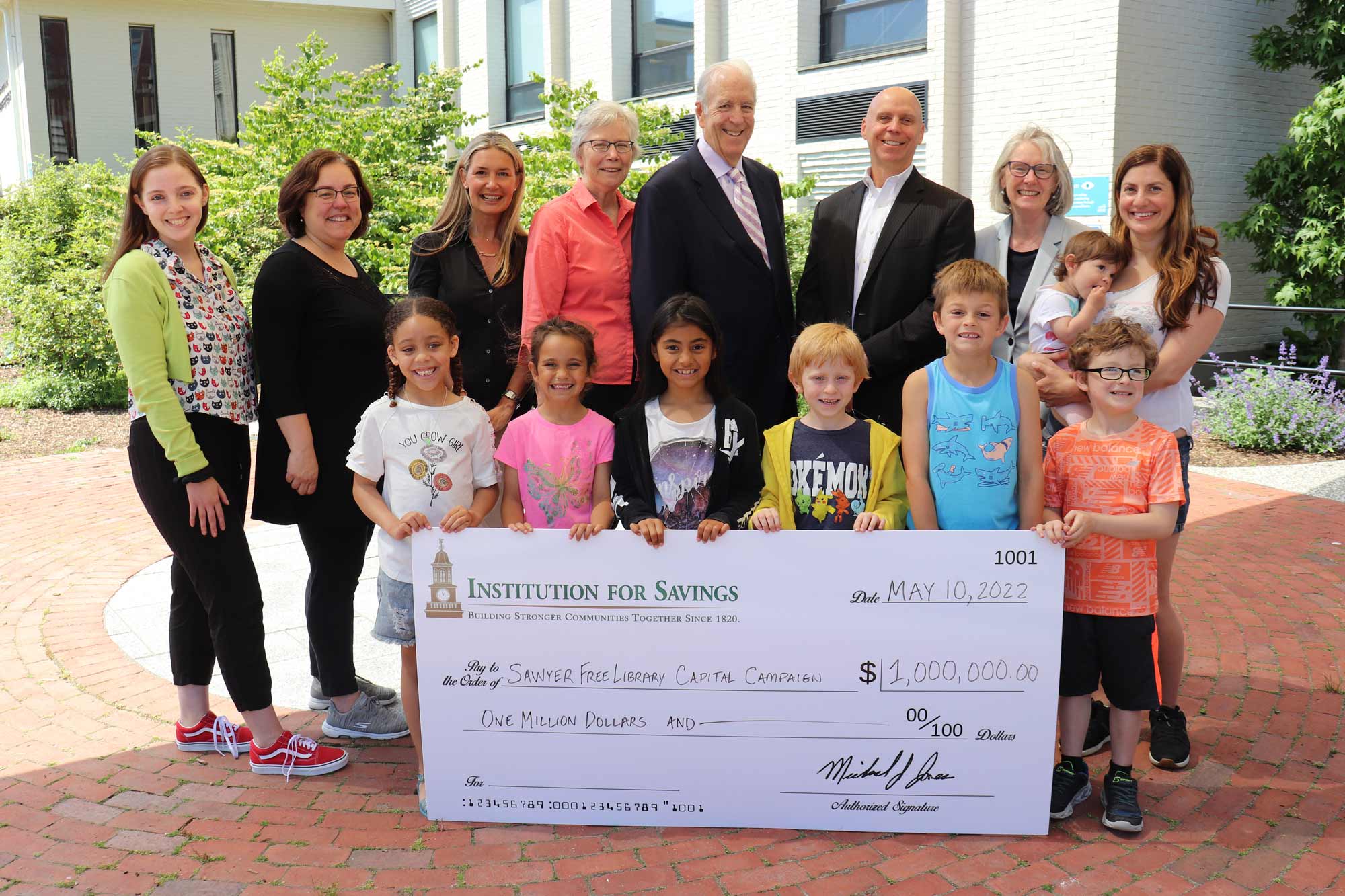 Newburyport-based Institution for Savings has made a charitable donation of $1 million to Sawyer Free 2025, the philanthropic capital campaign for the renovation, modernization and expansion of Sawyer Free Library on Dale Avenue.

The Institution for Savings' donation represents the largest single corporate gift to the Sawyer Free 2025 campaign to date.

"This is such an important project for the city of Gloucester, the residents, the schools and the many non-profit organizations who have partnerships with the library," said Institution for Savings President and CEO Michael Jones, in a prepared statement.

"This project, when completed," Jones said, "will establish the library as a state-of-the-art hub for innovation, history, learning, arts and culture — right in the heart of Gloucester. We are thrilled and honored to partner with the Sawyer Library Foundation on this initiative and we graciously challenge others in the community to step up and help make this vital project a reality for the people of Gloucester."

Word of this donation follows announcements of support for the library renovation and expansion project in recent weeks, including BankGloucester's donation of $250,000 to the capital campaign, and MassDevelopment and the Massachusetts Cultural Council's grant of $200,000 to Sawyer Free 2025, one of 94 capital grants from the organizations' fiscal year Cultural Facilities Fund.

The Sawyer Free 2025 project's total cost is $28 million, a sum which factors in inflation costs through completion in 2025. The Sawyer Library Foundation, the campaign's fundraising arm, has already attracted more than $14.3 million in pledged donations and grant awards. A provisional award of $9.3 million from the Massachusetts Board of Library Commissioners accounts for just over a third of the project's cost.

The project will preserve the original exterior of the library's existing main building, which will house a fully redesigned interior, and will double the size of the library's footprint with a 15,000-square foot addition.
The new facility will feature a sound studio, a film studio, a digital tech lab and a 110-seat community meeting space. It's expected the addition will result in a 25% increase in annual visitors, a 25% increase in the number of public programs offered each month by the library and a 50% increase in the number of programs hosted at the library by its many partner agencies.

"The Institution for Savings' goal of raising standards of living and advancing quality of life in the communities it serves is clearly evidenced by this astounding show of generosity," said Barry Weiner, a retired attorney and the campaign chair for Sawyer Free 2025. "The bank's commitment to exemplary corporate citizenship and social-mindedness is a powerful endorsement of our vision to fund this once-in-a-lifetime investment in a vital community resource. By giving back so unsparingly to the people who live here and by supporting growth for generations to come, the Institution for Savings has provided a huge tailwind for this philanthropic campaign. We urge our fellow citizens of Gloucester as well as residents across Cape Ann to be guided by this show of support and rise to this occasion with donations both big and small."

Dating to 1820, the Institution for Savings is the largest mutual savings bank in Massachusetts. On Cape Ann, it has branches at 4 Parker St. in Gloucester, and 37 King St. in Rockport. The donation was made possible by the Institution for Savings Charitable Foundation.

Institution for Savings Corporators and employees gathered in person and via Zoom last evening to mark the Bank's 202nd annual meeting and another record-setting financial year. The meeting was held at the Black Swan Country Club in Georgetown as well as via Zoom, with over 250 corporators and employees attending.
President and CEO Michael J. Jones reported that the Bank's total assets in 2021 reached $4.5 billion, increasing by $570 million or 14 percent over 2020 and fueled primarily by growth in the Bank's loan and investment portfolios. Total loans increased $439 million or 16 percent reaching $3.2 billion. Total deposits increased $416 million or 14 percent reaching $3.5 billion.

The Bank reported record net income of $102 million. Record net operating income of $35.5 million represents a $9.8 million increase or 38 percent increase over 2020. Total capital increased $100 million or 22 percent and remains strong at $556 million, providing opportunities for future growth and expansion. Strong earnings resulted in a return on average assets of 2.40 percent which once again places the Institution for Savings at the top of Massachusetts banks.

Mr. Jones also reported on a number of other milestones achieved in 2021.
The Institution for Savings Charitable Foundation donated and pledged more than $2 million to local non-profit organizations in its market.
The Bank purchased the former Century Bank location at 12 Peabody Square, Peabody with plans to open a full-service retail and lending office by the end of 2022.
The Bank purchased a commercial building at 79 State Street, Newburyport with plans to move its call center and retail operations there by the fourth quarter of 2022.
Restoration and renovations were completed to the Bank's main office built in 1870, with renovations to the rear wing of the main office built in 1980 currently underway.
The Bank was again named a Top Charitable Contributor and Best Place to Work by the Boston Business Journal as well as a Top Place to Work for the fourteenth straight year by the Boston Globe.
During the meeting Corporators approved several bylaw changes. The first was to increase the number of corporator votes needed to change the Bank's mutuality charter, name and/or headquarters. The second was to approve the formation of the IFS 1820 Bancorp Mutual Holding Company (MHC) that would position the Bank to grow and acquire other community banks in the future.
"This change in structure will put us on a level playing field with our local competitors and banks in our asset class while maintaining our independence and mutuality," said Mr. Jones in proposing the change. "Of the 76 mutual banks in Massachusetts, approximately 60% have a mutual holding company and we are by far the largest mutual bank in Massachusetts that does not have one. Equally important, this new structure will be seamless to our loyal customer base, our steadfast commitment to the communities we serve will not change and our talented team of employees will have additional opportunities for promotions as the Bank continues to grow."

During the meeting, three new corporators were elected. They include Shelley DeSimone, Chief Human Resources officer at AgeSpan in Lawrence and a Newbury resident; Scott Faulkner, Principal at Groom Construction in Salem and a Swampscott resident; and Hannah Greenough-Linke, Attorney with Glovsky & Glovsky in Beverly and an Ipswich resident.

Additionally, Mr. Jones paid tribute to recently retired trustees Stuart Winfrey and David Tibbetts. Mr. Winfrey, co-owner of Winfrey's Chocolates, a North Shore confectionary institution, joined the Board of Trustees in 2015 as the Bank had just recently expanded to new markets that included Cape Ann and Beverly. Over the last seven years, Stu's business insight coupled with his outgoing personality and familiarity with the communities the Bank serves have enhanced the Bank's 'sweet recipe for success.', according to Mr Jones. While on the board, Stu served on the ALCO and Building Committees as well as a rotating member of the Executive Committee.

"If there is one trustee who has had a front-row seat to the Institution for Savings' growth and expansion over the last two decades, it is David Tibbetts," said Mr. Jones. "When he was elected to the Board of Trustees in 2003, the Bank had two offices, both located in Newburyport, and total assets of $450 million. When he retired from the Board in August 2021 the Institution for Savings had grown to 15 offices in 13 communities with assets of more than $4.3 billion."

Mr. Tibbetts' guidance, commitment and fierce loyalty to the Institution for Savings during his 18 years as a trustee were critical to the success and growth of the Bank, according to Mr. Jones. His background and experience as an attorney, public official, community leader and economic development policymaker were instrumental as the Bank expanded into new communities. Over his years as trustee, David served in key roles, serving on the Long-Range Strategic Planning Committee, Nominating Committee and as a rotating member of the Executive Committee. His wit could always bring a laugh no matter what the circumstances.
Mr. Tibbetts' generosity has always extended to organizations near and dear to his large heart, including Anna Jaques Hospital, Newburyport Downtown Enhancement Team and the Firehouse Center for the Arts where he remains an active board member.

Before concluding the meeting, Mr. Jones announced the recipient of the President's Award, annually given to an employee who consistently goes above and beyond his or her duties to serve the Bank and its customers. This year's award was given to Shelly Gauthier, deposit services representative. Mr. Jones described Ms. Gauthier as a powerhouse, bright in her intelligence and personality, and a team player who consistently goes above and beyond to assist customers and fellow employees alike, always with a smile and kind word.

The Institution for Savings is expanding its footprint again – this time to Peabody.  The Bank recently completed the purchase of the former Century Bank retail office at 12 Peabody Square, announced president and CEO Michael J. Jones today.
The 5,440-square foot two story building is located in the heart of downtown Peabody, with a drive-up lane and onsite parking. Pending approvals by the Federal Deposit Insurance Corporation and the Massachusetts Division of Banks, the Bank hopes to undertake renovations and updates to the office, with the official opening tentatively scheduled for late 2022.
"Establishing a physical presence in Peabody is a natural move for us and one to which we are truly looking forward," said Jones in announcing the Bank's plans. "Similar to the other North Shore communities where we have offices, Peabody is a vibrant city, rich in history, and this location is right in the heart of its busy retail and commercial center. I am confident that our competitive rates,  consumer and business products and services, and strong sense of community and charitable giving will be a great addition to Peabody."
When completed, the office will have retail, residential and commercial lenders onsite, as well as a drive-up lane and 24-hour ATM.
Jones also announced that Christopher Ross, former office manager for Century Bank's Peabody branch, will join the Institution for Savings in late January 2022 as Assistance Vice President and Manager of the new Peabody office.  Christopher has extensive retail banking and business development experience in the greater Peabody and North Shore area. Mr. Ross will can be reached at 978-462-3106 or cross@ifs.bank.
Bank Donates & Pledges More than $600,000 in Q3 2021
October 2021
The Institution for Savings, through its Charitable Foundation, awarded and pledged $594,327 in charitable grants to nearly 100 local non-profit organizations in the third quarter of 2021, announced President and Chief Executive Officer Michael J. Jones.
The largest grant was $25,990 to Salisbury Elementary School for enrichment programs and activities for the 2021-22 school year. The First Parish Newbury Food Pantry was awarded $25,000 towards a new food pantry facility and the Pettengill House in Salisbury was granted $25,000 to support its expanding operations and address technology needs.
Pathways for Children in Gloucester was granted $20,000 to sponsor its annual gala and Age Care Program's Positive Youth Development framework. Wellspring House of Gloucester was awarded $12,500 to support its Basic Needs program for clients seeking employment and housing.

The YWCA of Newburyport received $10,000 to support furnishings and other needs for 10 individuals entering the Hillside project, a sustainable and affordable housing development. The Open Door will receive $10,000 towards its Holiday Gift Basket program.

In addition to its regular grants, the Foundation awarded $71,000 to 22 local food pantries and meal programs as it does each fall. These organizations include Community Action Inc., Amesbury; Our Neighbors Table, Amesbury; Beverly Bootstraps; First Church Congregational of Boxford; Grace Center Inc/Unitarian Universalist Church, Gloucester; St. Vincent De Paul Society in both Gloucester and Newburyport; The Legion Gloucester Post #3; Ipswich Dinner Bell; Middleton Food Pantry; First Parish Church of Newbury; Among Friends at St. Paul's Church, Newburyport; Central Congregational Church, Newburyport; Community Service of Newburyport; The Salvation Army, Newburyport; St. Basil's Kitchen, Newburyport; Rowley Food Pantry; Salem Food Pantry; Lifebridge, Salem; The Pettengill House, Salisbury; Acord Food Pantry, South Hamilton; Topsfield Food Pantry; and Senior Care, Gloucester.

"These organizations are doing incredible work by providing much needed services to so many in need, from food to housing to educational services and much more," said Mr. Jones. "As non-profits continue to recover from the challenges of the pandemic, financial support is needed more than ever and we are happy that we can help."

Other non-profit organizations receiving financial support in the third quarter of 2021 include the following: Addison Gilbert Hospital; Agawam Youth Hockey; ALS Association, MA Chapter; American Legion Post No. 3; Amesbury All-Sports Booster Club; Amesbury Carriage Museum, Inc.; Ascension Memorial Church; Boys & Girls Club of Greater Salem; Cape Ann Art Haven; Cape Ann Community Band; Community Giving Tree; Danvers YMCA; Essex County Greenbelt Association; Essex County Habitat for Humanity; First Lego League Newburyport Team; First R Foundation; Friends of Newburyport Youth Services; General Charitable Society of Newburyport; Gloucester Marine Genomics Institute; Groveland Fire Fighters Association; Hamilton Wenham Youth/Travel Basketball League; Horizon Club Inc. of Newburyport; Immaculate Conception School; Ipswich Cultural Council; Ipswich High School Football Boosters; James L Melvin Post 379 American Legion; and Kestrel Education Adventures.

Also, Lazarus House Ministries Inc.; Lifebridge North Shore; Massachusetts Down Syndrome Congress; Myopia Hunt Club; Newburyport Lions Club; North Shore Community Action Programs; Northeast Massachusetts Youth Orchestras, Inc.; Ovarian Cancer Awareness; Pine Grove School Music Department; Rockport Association Art and Museum; Rockport Elementary School; Rockport Garden Club, Inc.; Rockport Music Inc.; Rockport Youth Soccer; Root NS, Inc.; Ruth's House; Salisbury Elementary School PTA; Sean Perkins Foundation; 2021 Beverly Holiday Parade; The Exchange Club of Greater Newburyport; The Gloucester Adventure Inc.; The Impossible Dream; Three Sisters Garden Project Inc.; Tough Warrior Princesses; Town of Salisbury; Travis Roy Foundation; Triton Regional High School Robotics/STEM Team After School Program; Washington Square Residence/Lynn Home for Young Women, Inc.; West Newbury PTO; and YMCA of the North Shore.

Bank Donates & Pledges More than $600,000 in Q2 2021
July 2021
The Institution for Savings, through its Charitable Foundation, awarded and pledged $600,143 in charitable grants to 76 local non-profit organizations in the second quarter of 2021, announced President and Chief Executive Officer Michael J. Jones.
The largest grants were two $100,000 pledged payments for the YMCA North Shore's Ipswich Aquatic Center and new Cape Ann YMCA facility. Our Neighbor's Table received $40,000 towards its grocery and meals programs and annual breakfast, and Newburyport Education Foundation received $29,204 for sponsorships and general program support for programs supporting the Newburyport Public Schools. Wellspring House received $25,000 towards its mission of helping North Shore families and adults to achieve employment and financial security through stable housing, education, job training and career readiness. Essex County Greenbelt was awarded $20,000 to support its annual Tour de Greenbelt and land conservation and preservation efforts.  Friends of Ipswich Elderly was granted $7,500 for senior fuel assistance and My Brother's Table of Lynn received $11,000 to continue its food and meals programs.
"As non-profits continue to recover from the challenges of the pandemic, financial support is needed more than ever," said Mr. Jones. "These organizations are doing incredible work by providing much needed services to so many in need, from food to housing to educational services and much more. We are happy that we can help."
Other non-profit organizations receiving financial support in the second quarter of 2021 include the following: American Legion Post #98; Amesbury Days; Amesbury Public Schools; Backyard Growers Inc.; Beverly Bootstraps; Beverly Council on Aging; Beverly Homecoming Inc.; Boston Children's Hospital; Boxford Elementary School Trust; Brookwood School Inc.; Building a Better Beverly; C-10 Research & Education Foundation; Cape Ann Art Haven; Cape Ann Community Band; Cape Ann YMCA; Corey C. Griffin Foundation; Essex County Trail Association; Essex Heritage Commission; Fidelity House CRC; Friends of Beverly Recreation & Youth Services Inc.; Friends of Beverly Recreation & Youth Services Inc.; Friends of Manchester-Essex Performing Arts; Girl Scouts of Eastern MA; Gloucester Meetinghouse Foundation; Gloucester Stage Company; Greater Lynn Senior Services Inc.; Hamilton Wenham Education Foundation; Hammond Museum; Ipswich Dance Foundation Inc. Ipswich Little League; Ipswich Men's Softball League; Ipswich Tigers Youth Football League; James L Melvin Post 379 American Legion; Lazarus House Ministries Inc.; Leap for Education Inc.; Lucy's Love Bus Charitable Trust Inc.; Melmark New England; Merrimac/West Newbury Softball League, Inc.; and Merrimack River Feline Rescue Society.
Also: Music for Music; My Brother's Table; Newburyport Adult & Community Education; Newburyport Art Association; Newburyport Lions Club Annual Yankee Homecoming Race; North Beverly Elementary School PTO; North Shore Concert Band; Ovations to the Cure; Pan Mass Challenge; Pine Grove School PTA; Pingree School: Malcolm Coates Prep@Pingree; Rockport Illumination Fund Inc.; Rockport New Year's Eve Inc.; Runway for Recovery; Self Esteem Boston Educational Institute Inc.; Sgt. Jordan M Shay Memorial Foundation; SPUR; The Children's Center for Communication/ Beverly School for the Deaf; The Impossible Dream; The Open Door/Cape Ann Food Pantry Inc.; The Pettengill House; Tinkerhaus Community Space Maker Space Inc.; Topsfield Athletic Association; Topsfield Cultural Council; Winners Circle Running Club; YMCA of the North Shore; and YWCA Greater Newburyport.
Bank Restores 150-year-old Main Office Lobby
May 2021
One hundred and fifty years after it officially opened its doors, Institution for Savings recently completed extensive restoration and renovations to its main headquarters located at 93 State Street in downtown Newburyport.
The main office lobby's original marble tile floor, patched throughout the years, was restored using the original pink, grey and dark cedar Tennessee marble tile installed when it was built, provided by Colonial Marble Company of Everett. Behind the teller line, carpet was removed, and oak hardwood floors discovered under the rug were stripped and refinished. The Bank's unique ornate mahogany moldings and woodwork, which includes ornately carved Corinthian capitals and other sculpted details, were sanded and refinished, and the original concrete floor surrounding  the vault, was repaired   and preserved as well.
After stripping and repainting the 20-foot high ceilings, contractors removed the 1970s-style canned ceiling lights and installed five brass chandeliers.  All of the main banking floor walls were also painted and new wall sconces installed, and new draperies and upholstered benches will be added shortly.
In addition to Colonial Marble, Perkins Painters of Salisbury, Mark Batchelder Construction of Newbury and Bill Hoyt Painting of Merrimac completed the project for the Bank.  Historic preservation consultant Dr. Judith Selwyn of Preservation Technology Associates consulted on the project.
"We could not be happier with the results of this restoration," said Bank President and CEO Michael J. Jones.  "This majestic building, designed by well-known local architect Rufus Sargent in the early 1870s, was described at the time of its building as Newburyport's major, if not singular contribution to the brownstone era of American building history, and we have made considerable efforts over the last few years to ensure its longevity. This building is a historic icon in Newburyport, both inside and out. We look forward to completing the renovations of the 1980s building in the near future.
In late 2019 the Bank completed an extensive exterior restoration of the original building. The project consisted of three main phases: repair and restoration of the original exterior brownstone; replacement of the front entrance stairs; and repainting and staining of the windows and doors.
Bank Celebrates Memorable & Historic Annual Meeting
March 2021
When Institution for Savings President and CEO Michael J. Jones welcomed guests the Bank's annual meeting last March, he told them that 2020 would be a year they would remember forever. At the time he was referring to a year honoring the Bank's 200th anniversary with a celebration that would last throughout 2020. 
Or so he thought.
At the Bank's 201st annual meeting held this week  via Zoom and attended virtually by nearly 300 corporators and employees, Mr. Jones recapped the extraordinary events of the year that concluded with the Bank recording record net operating income of $25.7 million during one of the most uncertain and challenging times in the Bank's 200 year history.  Guests also watched a 12-minute video recapping the Bank's perseverance during this period, followed by Mr. Jones' presentation of the annual President's Award to three retail employees who went above and beyond to serve customers during the pandemic. (The video can be viewed on the Bank's website, institutionforsavings.com.)
 Jones reported that total assets in 2020 reached $3.964 billion, increasing by $248 million or 7 percent over 2019. Total loans and total deposits ended the year at $2.78 billion, and $3.1 billion respectively.
The Bank reported net income of $46.4 million, its second-best year ever. Total capital increased $48 million and remains strong at $455 million, providing opportunities for future growth and expansion. Strong earnings resulted in a return on average assets of 1.21 percent which once again places the Institution for Savings at the top of Massachusetts banks.
Jones noted that this past year, more than ever before, the Bank felt an obligation to further assist Bank employees, customers, and our communities in their time of need.  "We did our best to help as we offered temporary loan payment relief programs, participated in the government's Paycheck Protection Program, allowed employees to work from home, said Jones.
In 2020, the Bank's charitable foundation donated $1.8 million.  Included in that amount was $300,000 in emergency funds authorized by the Bank's trustees last spring to help non-profits, who were adversely affected by the pandemic with concentration on food pantries.
"Throughout the ups and downs of the pandemic we never lost sight of our commitment to support the non-profits organizations in our communities," said Mr. Jones. "Our Giving for Good program was also critically important: each month our employees went out into our communities to safely 'pay it forward' by buying lunch for first responders, giving gift cards to school personnel and local restaurant works, and helping those in need during this difficult time for so many. The unwavering efforts of our employees continue to solidify the true meaning of the Bank's vision statement. I am truly honored to have led this Bank during what was without question my most challenging year as president."
Mr. Jones cited several additional milestones for 2020:
Recognized by The Daily News as Best Bank (11th consecutive year) and Best Customer Service
Recognized by The Salem News as Best Bank
Recognized with multiple Wicked Local Readers' Choice Awards: ranked #1 in Newburyport (also covers Newbury, West Newbury, Merrimac), Ipswich, Hamilton, Wenham, Middleton, Rowley, Topsfield/Boxford and Salisbury
Received two Banker & Tradesman Banking Choice Awards (northeast Massachusetts): #1 in Community Contributions and #2 Overall Quality
Recognized by the Boston Business Journal as a Top Charitable Giver and a Best Place to Work
For the 13th consecutive year, recognized as a Boston Globe Top Places to Work.
Named Large Business of the Year by the Greater Beverly Chamber of Commerce.


Before concluding the meeting, Mr. Jones announced the recipients of the 2020 President's Award, given annually to one employee who consistently goes above and beyond his or her duties to serve the Bank and its customers. This year, Mr. Jones presented awards to three employees who staffed the Bank's critical and busy drive-up windows when all other offices were closed during the height of the pandemic. Bonnie Antoniou of the Storey Avenue Newburyport office, Eileen Burnham of the Gloucester office and Justin Landy of the Depot Square Ipswich office received the coveted awards which comes with a generous cash gift and extra week of vacation. "These employees processed hundreds of transactions daily and never lost their kindness and compassion even when the line went out to the street," said Mr. Jones in announcing the recipients. "They went above and beyond every day to serve our customers in the most challenging of times, and they are the Bank's true frontline heroes."
2021 Scholarship Applications Now Available
February 2021
Newburyport – Applications are now available for the 2021 Institution for Savings $20,000 Scholarship, announced President and CEO Michael J. Jones today.  
The Bank will award a total of six $20,000 scholarships this year. Graduating seniors from Newburyport, Amesbury, Triton Regional, Pentucket Regional, Beverly, Gloucester, Hamilton-Wenham, Ipswich, Rockport, Salem and Beverly High Schools are eligible for this scholarship. To qualify, students must be ranked in the top 50 of their class, be accepted for admission at an accredited college or university, and demonstrate traits consistent with the Bank's vision of having a positive effect on the lives of others  through leadership, volunteerism, innovation, service and academic achievement.
"Offering these scholarships to students in our communities is one of the cornerstones of what we do," said President and CEO Michael J. Jones. "Every year it's an honor for me to read the hundreds of applications we receive from intelligent and promising graduates. Our past recipients have gone on to become doctors, engineers, teachers, writers and more, all having a positive impact on our world."
Applications are available online at the Bank's website by clicking on the Community link. Applications are also available in each school's respective guidance offices.  Completed applications are due by March 31st and can be sent to Institution for Savings, PO Box 510, Newburyport, MA 01950.
Bank Establishes $5,000 Patricia D. "Pat" Connelly Scholarship for NHS Students
December 2020
To honor the life of one of its longest serving employees, Institution for Savings has established the Patricia D. ("Pat") Connelly Memorial Scholarship, announced president and CEO Michael J. Jones today. The scholarship will be awarded annually to a graduating Newburyport High School senior who embodies Pat's love of the City of Newburyport and her spirit of kindness and giving back to her community.
"Pat was one of the Bank's most tenured employees but that wasn't what made her so special," said Mr. Jones. "She cared deeply about those who were less fortunate than herself, and always strived to find ways to ease their burdens, whether it was a kind gesture, giving of her time or making a personal donation. Pat was also immensely proud of her Clipper roots as a 1964 graduate of Newburyport High School, following the activities of the many sports teams, attending plays in the auditorium and more. As a member of the Bank's scholarship committee Pat loved that the Bank's support helped make college attainable for many worthy students. I know she would be proud and pleased to know that future generations of passionate Clippers will be helped in her name."
More information about the scholarship criteria as well as an application can be found on our Scholarship page.
Bank recognized as One of Top 50 Charitable Contributors in Massachusetts
September 2020
For the fifth consecutive year the Institution for Savings has been named one of the region's top 50 corporate charitable contributors by the Boston Business Journal (BBJ) in its annual 2020 Corporate Citizenship Awards.
The BBJ annually publishes the list to showcase companies that promote and prioritize giving back to their communities — a feat that is even more important during times of turmoil and challenge.
"Charitable giving is one of the cornerstones of our vision of having a positive effect of every person, business and organization within the communities we serve which makes this recognition so gratifying," said Institution for Savings President and Chief Executive Officer Michael J. Jones. "Supporting those in our communities who are struggling, particularly during these last six months, has never been more critical. We will continue to do everything we can to make a difference where it is needed the most."
"During a year filled with unprecedented events and change, it's incredible to think that this year's list is the largest we have ever compiled," said BBJ Market President and Publisher Carolyn Jones. "Philanthropic companies like the Institution for Savings prioritize the welfare of our communities, and we are excited to be able to honor them."
This year 107 companies — a record number — have qualified for recognition on the complete list by reporting at least $100,000 in cash contributions to Massachusetts-based charities and social-service nonprofits last year. The honorees this year include companies from health care, technology, financial and professional services, retail, professional sports and more.
The companies were honored at a virtual awards ceremony on September 10th.
Bank Awards Six $20,000 Scholarships to Area Graduates
August 2020
The Institution for Savings recently awarded $20,000 scholarships to six graduating seniors throughout the North Shore, announced President & Chief Executive Officer Michael J. Jones today. The recipients were presented with their awards during their school's respective virtual and/or commencement presentations during May and June.
The six scholarship recipients were: Jamie Bell, Triton Regional High School; Molly Elmore, Newburyport High School; Annie Gillis, Ipswich High School; Margaret Low, Masconomet Regional High School; Molly McAreavey, Gloucester High School; and Sage Seymour, Pentucket Regional High School. They were selected from approximately 300 applicants.
In announcing the recipients, Jones said: "Our vision at the Institution for Savings is to positively affect the lives of every person, business and organization within the communities we serve. These six deserving recipients demonstrate great leadership skills, high academic achievement and most importantly strong character. We wish them success in all of their future endeavors."
The scholarships are offered to graduating seniors from public high schools in the communities where the Bank has offices including Amesbury, Beverly, Gloucester, Hamilton-Wenham, Ipswich, Masconomet Regional, Pentucket Regional, Newburyport, Rockport, Salem and Triton Regional High Schools. Eligible students must apply and/or have been accepted for admission at an accredited college or university; be among the top 50 students academically in the graduating class; and demonstrate traits consistent with the Bank's vision.
For more information, visit the Bank's
Scholarship
page.
Gift of 200 Trees Rooted in Hope
published April 18, 2020,  Daily News of Newburyport
NEWBURYPORT – It wasn't exactly the scenario the head of the Institution for Savings had in mind when planning for the bank's 200th anniversary year. But Michael Jones, the president and CEO, hopes the donation of 200 15-foot trees to the 13 communities where IFS has offices might send a message of hope in challenging times.
In January, Jones contacted leaders of 13 North Shore communities where the bank has offices with an offer to donate 200 trees to commemorate Earth Day, which is April 22, as well as the bank's 200th anniversary. The bank had already planned a number of other "200-themed" activities to celebrate, including raising an anniversary flag in January and in February employees committed 200 "random acts of kindness." In March, 200 mugs filled with breakfast foods were donated to Our Neighbors' Table in Amesbury and The Open Door in Gloucester.
But the pandemic and state of emergency cancelled plans to unveil a commemorative plaque at the bank's main office on State Street earlier this month.
Jones and Kim Rock, the executive vice president and chief operating officer, believed the donation of trees – a sign of stability and life – would be a positive sign for residents. Rock enlisted the bank's longtime landscape contractor, Greg Southard of Riverfront Landscaping along with Steve Walfield, owner of Corliss Wholesale Supply in Ipswich. Walfield procured the 200 trees, a mixture of October Glory maples, Princeton elms and Yoshino cherry trees. Southard and his team delivered them to every community, a process that took a full week.
Jones said he hopes the tree plantings will provide some comfort to the communities served by the bank.
"We know this is a very challenging time for our customers and our communities," he said. "If witnessing the planting of these beautiful trees that will grow and bloom for many years provides any sense of hope for better days to come, we have accomplished our goal."
Officials in communities receiving the trees appreciated the gifts during this stressful time. Newburyport Mayor Donna Holaday expressed her gratitude for all the bank has done for the city during the past two centuries. 
"As our world has been gripped by the COVID-19 pandemic, we are witness once again to their generosity in the donating and planting of 200 trees in our communities. This act of kindness is heartening to see as a sign of life and hope during this unprecedented time," she said in the release.
Tree Commission Chair Connie Preston said the commission "will be planting these trees and many more in the next few weeks and hope that the new trees will provide some hope during these challenging times."
10th Annual Credit for Life Fair Goes Virtual
May 18, 2020
With the 200th anniversary of the Institution for Savings' founding coinciding with the tenth year of its popular Credit for Life Fair attended annually by 1000+ North Shore high school eleventh graders, the Bank was hoping to 'do it up big,' according to Senior Vice President Mary Anne Clancy. But COVID-19 threw a wrench into those plans and with school cancelled for the remainder of the spring, it appeared that this year's half-day event held at Masconomet Regional High School would be cancelled. Instead, Bank coordinators decided to make the event a virtual event "attended" by the students at home using laptops, cellphones and the Bank's proprietary IFS Credit for Life Fair app that they had tested—successfully—at last year's event. Further, the Bank enlisted the assistance of two sports dynamos to get out the message:  WCVB's sports anchor icon Mike Lynch and New England Patriots recently signed linebacker Brandon Copeland.
"I am so happy that our internal Credit for Life planning team came up with such a creative way to deliver this important program to high school juniors," said Michael J. Jones, the Bank's President and CEO.  "Whether the students are walking up to booths in a field house or navigating the booths on their phone, the intent is the same:  to stay within their budget, put their needs ahead of their wants and most importantly, to learn important money lessons that will last them a lifetime. The app will give them the information, but in the end, it is the students who will have to make the right choices.  There's no app that can do that for them."
Lynch, a Harvard graduate, is no stranger to revving up high school students. His longtime 'High 5" segment showcasing talents and stories of Massachusetts' school athletes is itself temporarily on hold due to spring sports being cancelled, so when the Bank reached out, he was happy to assist.
"I happened upon the Fair a couple of years ago when I was scouting out a High 5 segment at Masco, and I was so impressed with how seriously the students were taking the event," said Lynch. "I remember saying to someone at the time that I wished my own daughters had something like this when they were in high school. It is an incredibly important lesson that the Bank is teaching these students—something they hopefully will remember long after they leave high school."
Copeland, when not engrossed in professional football, is passionate about teaching financial literacy. The University of Pennsylvania graduate teaches a class at his alma mater as well as classes to fellow NFL players and recently teamed up with Newton based FitMoney.org, a non-profit that offers a free, K-12 financial literacy curriculum to empower youth with the knowledge and skills that can lead to better financial outcomes. When he learned about the Credit for Life Fair concept-- also being done virtually at Andover High School--he offered to create a short video encouraging the students to participate. 
Videos made by both Lynch and Copeland promoting the important lessons of the Fair are on the Bank's website, as well as on its YouTube page.
"Our initial reason for developing the app last year was to engage the students and provide the information they need other than the typical posters and PowerPoint presentations, and that seemed to work," said Clancy. "With the infrastructure already in place to do this remotely, we just tweaked a few things and reached out to our 13 schools to see who might be interested in offering this remote learning opportunity to their students."
As it turned out, every partner school jumped at the opportunity to offer it to their students.  Schools participating in the virtual event this year include Amesbury, Pentucket Regional, Newburyport, Triton Regional, Ipswich, Masconomet Regional, Hamilton-Wenham, Manchester-Essex, Landmark, Beverly, Swampscott, Gloucester and Rockport High Schools.
The goal of the Credit for Life Fair, said Clancy, is to help students understand the importance of balancing their budgets while still in school.  In past years, students chose a profession and were given personalized spending worksheets listing their monthly take home pay as well as a credit score, savings account and credit card spending limit. At the Fair, the students then travel around to 15 booths and purchase everything they need to live as 25-year old 'professionals with paychecks':  housing, transportation, insurance, food, utilities and more, with the goal of staying within their budgets.
According to Clancy, the Fair will work very similar this year, only virtually.   All students will be emailed their worksheets from their schools and then will need to download the IFS Credit for Life app on their laptops, phones or tablets.  They will then use the app to visit the "booths" and choose the plans that fit their professions and salaries, recording their purchases on their spending worksheets.  Once they visit all booths, students then email their completed spending plans back to the Bank to be eligible for hundreds of gift cards.
Bank Turns 200: Raises Anniversary Flag to Commemorate its Bicentennial
January 10, 2020
In early 1820, 34 prominent citizens of the City of Newburyport sent a request to the Massachusetts General Court requesting to incorporate an institution "for the purpose of receiving money on deposit and investing the same to the best advantage of the owners thereof." On January 31, 1820, that charter was granted, creating the third savings bank in the Commonwealth: the Institution for Savings. Opening deposits totaling $465.10 were collected on the first day.
Now, 200 years later, the Institution for Savings is a $3.7 billion bank, but on the same path on which its was founded in 1820: making life better for its customers and its community. Earlier this week Institution for Savings President and CEO Michael J. Jones raised the 200th anniversary flag outside the Bank's 93 State Street Main Office campus, officially kicking off a yearlong bicentennial celebration. The event was attended by the Bank's employees, Board of Trustees, employees and customers.
"For 200 years we have provided our depositors with a safe and stable place to see their savings grow," said Jones. "Our depositors have trusted us to lend their savings to their families, friends and neighbors to buy homes, businesses, automobiles, and finance education. Our financial success has allowed us to support local nonprofit organizations and causes to help those less fortunate and ensure that our community continues to be a good place to live and work. We are thrilled to be able to celebrate so many accomplishments and milestones throughout this year, and especially to say thank you to our loyal customers who have made this 200th anniversary milestone possible."
In addition to flying the anniversary flag at all of the Bank's offices, other things planned for the Bank's bicentennial year include a dedicated website with information and historic photos (ifs200.com); a commemorative coin; a series of activities and events throughout the year marking 200 years; a historic wall calendar (now available at all offices); a video;  and a hardcover history of the Bank to be published later this year.